Domestic scrap prices increase further in turkey on costlier imports turkey / Scrap
Domestic ferrous scrap prices in Turkey have resumed uptrend due to the rise in contract prices for imported   material.
Some local companies increased purchasing prices for local scrap further. The previous revision was made in mid-October after a change in the price trend in the imported scrap segment. Current increase is also related to costlier imported material. "Positive trend for imported scrap strengthens in recent deals. Turkish mills just follow the upward move," a market source told Metal Expert.
On October 18-20, most companies announced an increase in their purchasing prices by TRY 35-145/t ($3-28/t at the current exchange rate).
The Iskenderun-based Bastug Metalurji and Erdemir left their prices unchanged since October 11-12.
ICDAS makes new price announcement turkey / long products
Turkey's largest rebar producer ICDAS started the week with a new price revision. The mill decreased its domestic rebar offers in the lira according to a stronger rate.
ICDAS rebar offers for the local market decreased by TRY 20/t to TRY 2,920/t EXW Biga from the last week levels. The dollar equivalent, however, gained $3/t amid the strengthening of the lira rate. As a result, rebar is now available at $424/t EXW, Metal Expert has learnt.
The general offer level has been stable so far at $420-430/t EXW since the   end of last week. At the same time, market players believe that the current uptrend in scrap import prices may push Turkey's producers to revise the price for finished product. "I think that in the near future we will see a rise in tags,".
Prices in the lira include 18% VAT, ones in the US dollars do not. Currency rate $1 = TRY 5.83.
turkey's crude steel production slightly improves in September turkey / Slabs, Steel Semis
Crude steel production indicated a slight improvement in Turkey in September com- pared to the previous month, whereas the year-to-date numbers were still significantly dropping.
Despite stoppages at some mills, Turkey managed to produce 2.7 million t of crude steel last month, adding 3.8% to August figures, according to Turkish Steel Producers' Association (TCUD). In the yearly comparison, however, both EAF and BF mills saw slowdown by 9% and 1.5% respectively, which resulted in a 6.9% decline in crude steel output versus September 2018 figures, Metal Expert learnt. The October figures might not be as positive, mainly due to the prolongation of maintenance campaign across the country.
The total crude steel production lost 10.1% during January-September, coming to
25.3 million t, TCUD reports. local EAF-based mills contributed the most to the drop with their crude output decreasing by 12.1% to 17.2 million t. Integrated manufacturers in their turn lost some 5.5% of steel volumes at 8.1 million t, Metal Expert learnt.
Turkey manufactured 15.6 million t of billet in the nine months, down 16.8% year- on-year. The flat steel segment kept providing stronger support, pushing slab production by 3.2%, to 9.7  million   t.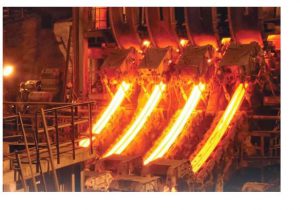 kardemir expands rail portfolio for urban transport applications turkey / long products
Turkey's integrated long steel producer and the sole rail manufacturer Kardemir continues to diversify its portfolio of high value-added products. The company has launched production of new rails for urban transportation systems.
Kardemir is now ready to provide the Turkish urban transport sector with local ly produced rails of grades R220 and R260 with profiles 60R1 and 60R2, which have been mostly imported up till now, according to the official statement. The mentioned products are applicable for metro, light rail and other types of railway lines.
Despite numerous economic challenges in Turkey, the country continues to implement the urban rail system projects to serve the needs of Istanbul, Ankara, Bursa, Izmir, Konya, Kayseri, Eskisehir, Adana, Gaziantep, Antalya, Samsun and  Kocaeli.
At the end of September, the European Bank of Reconstruction and Development provided a EUR 97.5 million syndicated loan for the construction of a new 13-kilometre metro line with 11 stations connecting districts on the Asian side of Istanbul, according to the official information. The total cost of the line is EUR 410 million
Kardemir, which is the only local source of rails for urban transportation systems, is likely to benefit from the expansion of its product portfolio. "lack of activity in the domestic rebar market leads to the search for new solutions. One option is to go into high added value products," a local source told Metal Expert.
The company can win even more in the long run, owing to the government's stronger focus on the development of the local railway network. Last month, the Ministry for Transport and Infrastructure established an Institute of Rail Transport Technology, which will be operated jointly by infrastructure manager TCDD and the   Tubitak scientific research council, part of the ministry. The new entity will focus not only on transformation railway sector but also on the development of the entire domestic supply chain.