India HRC export prices fall on deals in eU
India / flat Products
Indian HRC export prices weakened this week. The trading activity in the Far East was limited and exporters had to switch their attention to Europe, where customers insisted on discounts.Indian HR coils (2 mm and above) were available to foreign customers at $425-445/t FOB against $440-460/t FOB last week. Exporters started offering November shipment coils, but October shipment is also available in the markets.Indian exporters had to pay more attention to Europe recently, as their sales to the Far East turned out to be not enough to offset the demand plunge in the local market. Buying activity in the EU remained slow and customers preferred to pro- cure domestically. Official offers from mills in the EU went down by $10-15/t overa week, to $435-445/t FOB ($470-480/t CFR). The sellers had to make discounts to attract local customers. A few deals for large quantities were reported in the Southern Europe at $455-460/t CFR.Indian exporters also remained focused on the Far East lately. Earlier this week one of them managed to sell 50,000 t of HR coils at $455/t CFR. However, the Russian supplier returned to the market and sold substantial volumes at $440-450/t CFR.As a result, Indian exporters reduced their offers, but not aggressively, by $10/t  to $430-435/t FOB ($450-455/t CFR). "We supplied good quantities in Vietnam recently and are not ready to make deals at $440-445/t CFR. Offers from Russia are a temporary thing – they come, sell what they have and leave the market," an Indian steelmaker told Metal Expert.Purchasing activity in Taiwan and Malaysia remained limited. Indicative offers in Taiwan were heard at $460/t CFR (freight is estimated at around $15-20/t) versus$460-465/t CFR two weeks ago. "The deals for October shipment were done at $465-470/t CFR in early September. Taiwan is a small market and we will not hear new bookings there in a near future," an Indian source commented. Offers in Malaysia were reported at $480-485/t CFR (freight $25-30/t), $5/t down over the past few weeks.
Indian customers prefer domesticHRC over imports
India / flat Products
domestic HRC offers in India went down again in mid-September as well as import ones. However, buyers kept shunning purchases from foreign suppliers as their prices went dangerously close to the level of anti-dumping duty on HRC which was imposed in 2017 for five  years.Official offers for September delivery HRC were voiced in India at INR35,000-35,500/t ($493-500/t) EXW, which was INR 1,000-1,500/t ($14-21/t) lowerthan in early September. "There is lack of confidence: neither steel suppliers norcustomers feel that the prices might go up in India," a local steelmaker told Metal Expert. The main problems Indian steel producers are facing are lack of cash flow, low demand from almost all downstream sectors, and Indian rupee devaluation against dollar, another source explained to Metal    Expert.The deal prices went down to INR 34,000-34,500/t ($479-486/t) EXW. Only upper end of the range has dropped by INR 500/t ($7/t) since early September, Metal Expert has learnt from Indian customers. "The prices will not go down further because mills are exporting a lot and there is no excess in the market now," a local flats manufacturer commented on the   situation.The indicative offers for HR coils from South Korea and Japan were   received at $470-480/t CFR against $480-495/t CFR reported in early September.   Some sources say that coils are available even at $450-460/t CFR, but no bookings can happen at this level. "The thing is Ad is still applicable and no imports can happen below $480/t. And it can be achieved in the domestic market," an Indian trader told Metal Expert. India imposed Ad on HRC imports from China, Japan, South Korea, Russia, Brazil and Indonesia in 2017. The Ad is calculated as the difference between the landed value of coils and $478-489/t depending on the country, if the final deal price is below this level. The duty is effective for five years.
India HRC exporters cut prices for all foreign customers in early September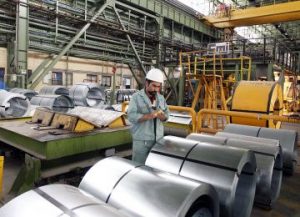 Although Indian exporters sold out September shipment HRC, they continued to reduce their offers for October shipment coils to attract foreign customers, since no rebound in the Indian domestic market is expected this month.Indian October shipment HR coils were available on export markets at $440-460/t FOB against $440-485/t FOB two weeks ago. only the upper end of the range, which corresponds to the offers in Europe, dropped.Indian suppliers were offering coils in Vietnam at $440-445/t FOB ($460-465/t CFR), $20/t down compared to the level two weeks ago. A few bookings were reportedly done through traders at $465/t CFR last week, whereas this week some deals were concluded at $460/t CFR. Market participants report that bids have already declined by $10/t this week.Indian coils are available in Taiwan at $460-463/t CFR (freight is estimated at around $15-20/t), while offers in Malaysia are made at $485-490/t CFR (freight $25-30/t), while two weeks ago, deals were concluded on these destinations $15-20/t higher than current offers.In early September, declines were marked in the Middle East and in the EU as well. Official offers for UAE customers were heard at $460/t FOB ($485/t CFR), have lost around $20/t since two weeks ago. At the same time, some sources reported that coils were offered even at $435-440/t FOB ($460-465/t CFR).The EU customers can procure Indian HRC at $445-460/t FOB ($480-495/t CFR) against $485/t FOB ($520/t CFR) two weeks ago.At the same time, despite price reductions on all main export destinations, Indian exporters managed to sell products only in Vietnam this week, while other foreign customers were waiting for prices to reach    bottom.The expectations for the price development in September are mixed. Some sources forecast the prices to decline in the near future as "strong USD to INR exchange rate as well as government export incentives give support," an Indian trader told Metal Expert. on the other hand, Indian producers predict a price rebound, since domestic demand expected to improve in October. Customers are likely to take a wait-and-see approach until an actual price increase takes place.
Indian steel sector concerned about entering into RCEP
India / flat Products, long products
India considers a possibility to exclude its steel industry from Regional Comprehensive Economic Partnership (RCEP) purview to protect the domestic manufacturers from the inflow of cheap imports, especially from    China.The representatives of the Indian steel sector expressed concern over including the industry in the RCEP free trade agreement between 10 members of the ASE- AN region plus Japan, China, India, South Korea, Australia and New Zealand, as it will provide opportunities for more countries to increase steel export to India. The steelmakers called the government to exclude the industry from RCEP purview, otherwise "it should come with certain safeguard mechanisms, a flashpoint that could check which countries are exceeding safe limits that do not threaten the domestic industry," according to local mass-media.The RCEP agreement will have to be concluded by November, when the leaders of the 16 RCEP countries will meet in Bangkok.Among the main countries which have the FTA with India, South Korea and Vietnam increased steel sales to the country by 14% and 33% to 2.9 million t and 202,000 t in 2018, Metal Expert reported. Shipments from Japan went down by 7% to 1.2 million t last year, according to customs data. However, the main fear for the Indian steel sector is China, which could increase shipments to India on the back of RCEP.